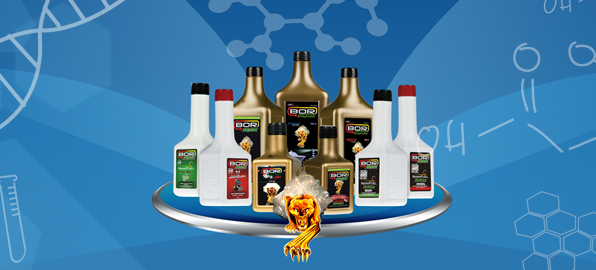 Friction, abrasion and corrosion are significant cause for the deterioration of performance and the life time of engines and machines in the private and commercial sector. Moreover, friction is responsible for a reduced efficiency of the machine, which yields increased energy and fuel consumption.
BORPower® is a boron-based high-tech product developed by using nanotechnology, which has extraordinary tribological properties and sets new standards in lubricant technology.
BORPower® is developed to optimize the functions of combustion engines, generators and industrial machines and to provide them long-term protection.
BORPower® reduces friction, wear and corrosion in the engine by means of its coating- and ball bearing effects.

BORPower® is extraordinary since it does not undergo chemical reactions like conventional lubricants. Its mode of action is merely physical.
BORPower® contains active substances like MCDP (Mono Crystal Diamond Powder) and Nanoboron, which are pressed into the rough surfaces under high pressure in the engine and form a protective film with a nearly diamond-hard, smooth surface. The remaining nanoparticles roll like ball-bearings between the MCDP layers.

Advantages of BORPower®
- more engine power
- less CO2 emissions
- less fuel consumption
- lower oil temperature
- less friction
- longer life of motor oil
- extended service intervals
- engine runs with less noise
- engine runs at lower temperature
- low-level particle emissions
The Quadro principle

Under the Microscope, the harsh working and rubbing metal surfaces are visible in Nanometer range. High friction, wear and corrosion at the contact surfaces can be identified.
Phase 1 | Surface filling
The rough-textured metal surface structure is filled by active 'BORPower®' nano boron particles (NBN). The friction surface is smoothed.
Phase 2 | Protection film
After the smoothing process the BORPower® MCDP (Mono Crystal Diamond Powder) nano boron particles build up an extra protective film, almost diamond hard. The metal surface is smoothed and protected.
Phase 3 | Ball bearing effect
The BORPower® active MCDP ball-shaped nano boron particles disperse on the smoothed surface, whose tribological properties are enhanced by the ball bearing effect.
Phase 4 | Homogeneous heat distribution
Homogeneous heat distribution: By their positive heat conduction properties, BORPower® MCDP and NBN nano boron particles induce a homogeneous heat distribution in engine oil.